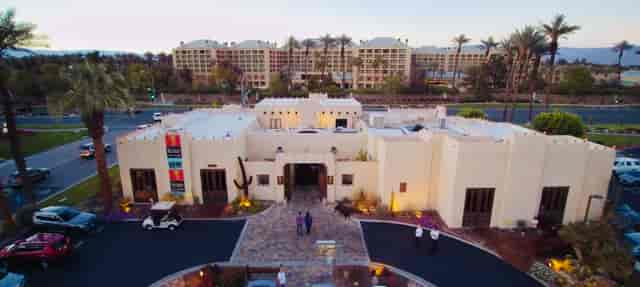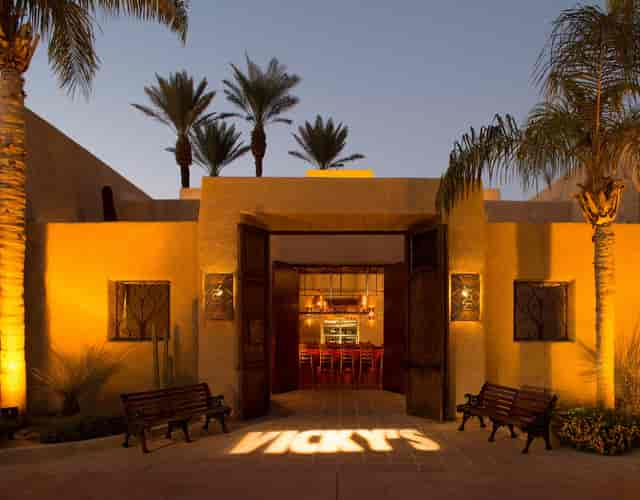 About
We are observing CDC recommended guidelines to ensure public safety. Our dining rooms are now open. Curbside Pickup is still available to order online or by calling 760-345-9770.
For over 30 years, the spot for cocktails, dinner, live music and nightlife. It's easy to blend with the locals when you know where to go in Indian Wells, and that's Vicky's of Santa Fe. Serving award-winning American cuisine, Vicky's is consistently named "Best Hot Spot," "Most Vibrant Bar Scene," and "Best Venue to Hear Live Music."

"Vicky's is a great dinner spot because it's the kind of place where everyone knows your name," says owner Marc Laliberte. "If you love good food and wine and want be surrounded by people you enjoy, Vicky's has all that." Mouthwatering menu items include three different steaks, like the popular filet, which Laliberte recommends cooked rare and served with melted bleu cheese crumbles and a seasoned twice-baked potato. The walk-in wine cellar features volumes of California wines from well-known winemakers and select boutique vintners. Signature cocktails, served at a spacious center bar, shake up happy hour and late nights.

The pièce de résistance, though, is the music lounge. Featuring more than 36 local and nationally renowned musicians, with 9 sets weekly over 7 days with 0 cover. Vicky's ambitious nightly live music program presents favorites like the John Stanley King Show, Kal David & Lauri Bono, the Real Deal, John McCormick, Slim Man, Rose Mallett, and Chase Huna, to name a few. Vicky's is also home to the Show Supper Club Concert Series, an array of Broadway-style song-and-dance dinner shows that benefit keeping music education in local schools.

Private dining, cocktail receptions, and special events for up to 100 guests are available, too, and this bustling venue books up fast. Reservations for dinner are recommended. Open Daily. Dining Rooms 5:30-9:30pm. Happy Hour 4:30-6:30pm. Live Music Nightly.
Vicky's of Santa Fe | 45100 Club Drive | Indian Wells, CA 92210 |
760-345-9770
Open Tuesday thru Saturday | Dining Rooms Reservations 5:00pm-9:00pm | Curbside Pickup 5:00pm-9:00pm